Milvus 2.2.10 & 2.2.11: Minor Updates for Enhanced System Stability and User Experience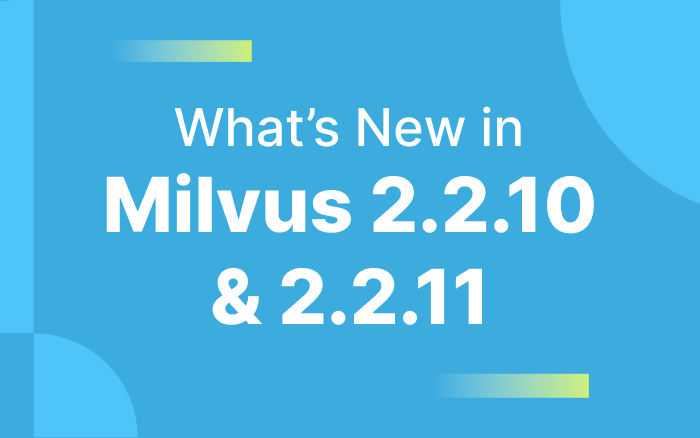 Greetings, Milvus fans! We're excited to announce that we have just released Milvus 2.2.10 and 2.2.11, two minor updates primarily focusing on bug fixes and overall performance improvement. You can expect a more stable system and a better user experience with the two updates. Let's take a quick look at what is new in these two releases.
Milvus 2.2.10
Milvus 2.2.10 has fixed occasional system crashes, accelerated loading and indexing, reduced memory usage in data nodes, and made many other improvements. Below are some notable changes:
Replaced the old CGO payload writer with a new one written in pure Go, reducing memory usage in data nodes.
Added go-api/v2 to the milvus-proto file to prevent confusion with different milvus-proto versions.
Upgraded Gin from version 1.9.0 to 1.9.1 to fix a bug in the Context.FileAttachment function.
Added role-based access control (RBAC) for the FlushAll and Database APIs.
Fixed a random crash caused by the AWS S3 SDK.
Improved the loading and indexing speeds.
For more details, see Milvus 2.2.10 Release Notes.
Milvus 2.2.11
Milvus 2.2.11 has resolved various issues to improve the system's stability. It has also improved its performance in monitoring, logging, rate limiting, and interception of cross-cluster requests. See below for the highlights of this update.
Added an interceptor to the Milvus GRPC server to prevent any issues with Cross-Cluster routing.
Added error codes to the minio chunk manager to make diagnosing and fixing errors easier.
Utilized a singleton coroutine pool to avoid wasting coroutines and maximize the use of resources.
Reduced the disk usage for RocksMq to one-tenth of its original level by enabling zstd compression.
Fixed occasional QueryNode panic during loading.
Rectified the read request throttling issue caused by miscalculating queue length twice.
Fixed issues with GetObject returning null values on MacOS.
Fixed a crash caused by incorrect use of the noexcept modifier.
For more details, see Milvus 2.2.11 Release Notes.
Let's keep in touch!
If you have questions or feedback about Milvus, please don't hesitate to contact us through Twitter or LinkedIn. You're also welcome to join our Slack channel to chat with our engineers and the community directly or check out our Tuesday office hours!
Like the article? Spread the word